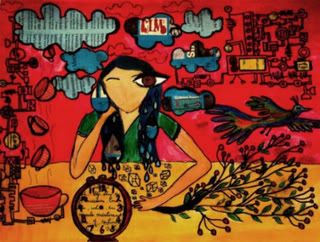 At night things flop and move-
tremble in breezeless darkness
The ceiling dismantles and regroups
into a cellular blanket of eyes and knives.
I need to stay awake,
And out-stare them,
before they soak my head
cut out patches of time
and leaving bleeding holes.
I need to win
In this midnight fever game
Picture: 'Dannie - Girl Uninterrupted' Collage and water-soluble colour pencil on paper.